The party for Día de los Muertos Friday evening, November 1, is at capacity, and no more tickets are available at this time.
Free tickets to museum events that have been resold will not match the RSVP list and may not be honored.
Performances by the all-woman mariachi group, Flor de Toloache, will be webcast live.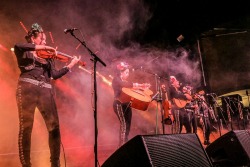 Please join us for many for many of the same activities Saturday and Sunday, November 2 and 3, from 10am to 5:30 pm. See the Days of the Dead/Día de los Muertos series link below. 
To receive information directly on the museum's special events, exhibition openings, concerts, film screenings, and other programs, consider signing up for our email list via s.si.edu…
________
For people who have already registered for the party:
Celebrate Día de los Muertos with performances by Latin Grammy-winning all-women mariachi group Flor de Toloache. Visit ofrendas made by Indigenous artists, enjoy food and drinks, take part in all-ages hand-on activities, and dance to the mix presented by DC DJ Kristy la rAt.
Hands-on activities include painting sugar skull magnets and crafting paper marigolds and masks to share or wear throughout the evening.
Visit the Mitsitam Cafe for a special Día de los Muertos menu. Bite-sized food and drinks will be available for purchase throughout the museum.
Explore the exhibitions and gift shops after-hours with exclusive access to the galleries.
Tickets for the party's special screening of Disney/Pixar's Coco have all been claimed. If you have a movie ticket: The screening will take place in the Elmer and Mary Louise Rasmuson Theater. Theater doors open at 6 p.m. Seating is limited. The quickest route to the theater is via the staff/school group entrance on the Maryland Avenue side (south side) of the museum. Please leave yourself time to go through the security screening.
The Day of the Dead is a festival celebrated by people in Mexico, parts of Central and South America, and many Latino communities across the United States as a way to honor family and friends who have passed away. The tradition originates from the Indigenous cultures of Mesoamerica, including the Mexica (Aztec) and Maya.
This program is presented in collaboration with the Smithsonian Latino Center with generous support from The Walt Disney Company.
The museum follows Friday evening's party with the Día de los Muertos Weekend Festival, Saturday and Sunday, November 2 and 3, from 10 a.m. to 5:30 p.m. See the Day of the Dead series listing below for details.